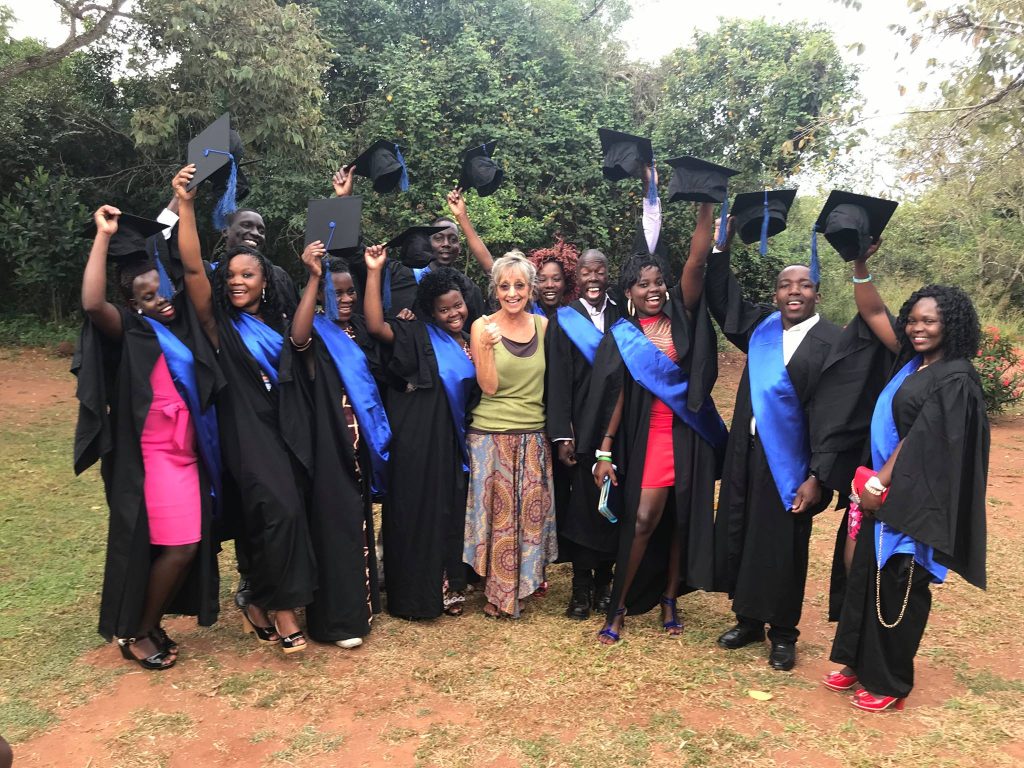 Sewing Hope Foundation
| | | |
| --- | --- | --- |
| November 12th, 2019 | Posted by admin | Giving |
Never underestimate the power of hope and unexpected miracles. Some call our community primitive; certainly isolated, vulnerable, living in extreme poverty in Central Uganda – one of the least developed districts in Uganda. For the last 2 years we have been ravaged by corrupt, unscrupulous landgrabbers. Ancestral land of villagers was stolen through bribed government officials. Through a lease loophole, they came after our ministry property, securing illegal permission to cut 60 acres of trees to burn for charcoal. As the only white in our area, I was forced into trucks with military, nearly arrested and often surrounded by men shouting with machetes swinging – villagers against landgrabbers. With the help of surrounding villagers, we were able to secure a long-standing lease, chased away the bad guys – but there was an emotional toll to this old white lady. I've been working this project for 17 years and began to think of closing AHI. Then your grant was approved. Staff, students, graduates, villagers, even my board of directors began looking and pointing up. How can we explain the timing of your grant, the generosity and kindness as anything but a miracle? It renewed all of us and ensured the future of a unique program that offers so much to those who have so little.
AHI is a small ministry with a huge ripple effect. African Hospitality Institute is a vocational training program, accepting 10 applicants per year to learn skills in the hospitality industry in order to secure employment in the tourist industry of East Africa. It combines a unique hands-on-vocational training with intensive discipleship and emotional healing. Our applicants are young men and women who have no other options due to very limited education and poor choices. Abusive and abandoned, this is often the only hope they have of creating a future worth living. Our graduates are close and have formed a mentoring alumnus; with nearly a 100% success rate of our graduates
finding and keeping employed. Amazing in a country with over 90% unemployment for youth aged 15-24. Our staff were once students in our program. AHI also has an international impact. AHI also serves as a guesthouse for mission teams to live at while they volunteer their skills and talents to our ranch, schools, and surrounding villages. As a destination for volunteers, AHI is able to show many just how the rest of the world actually lives – our visitors are able to form long lasting relationships with people who are barely able to earn $1 a day, most are subsistence farmers. Our teams come from America, Europe, Australian, Peru. We also use our facility to encourage youth unity initiatives between Christians and Muslims seeking to find a way to live in peace – bringing together young people from East Africa, America and Jordan.
As teams and volunteers use our facility, they commit to help our surrounding communities by partnering with villages in completing community projects such as water borehole repair – providing clean water, building school rooms, and providing many different trainings from sanitation, water filtration, mental health, medical and parenting resourcing. We partner with our village leaders – the villagers must raise a certain amount of money and provide much of the labor. It is a wonderful partnership that is breaking down the crippling effects of dependency in Uganda.